Stuffed green hojiblanca olives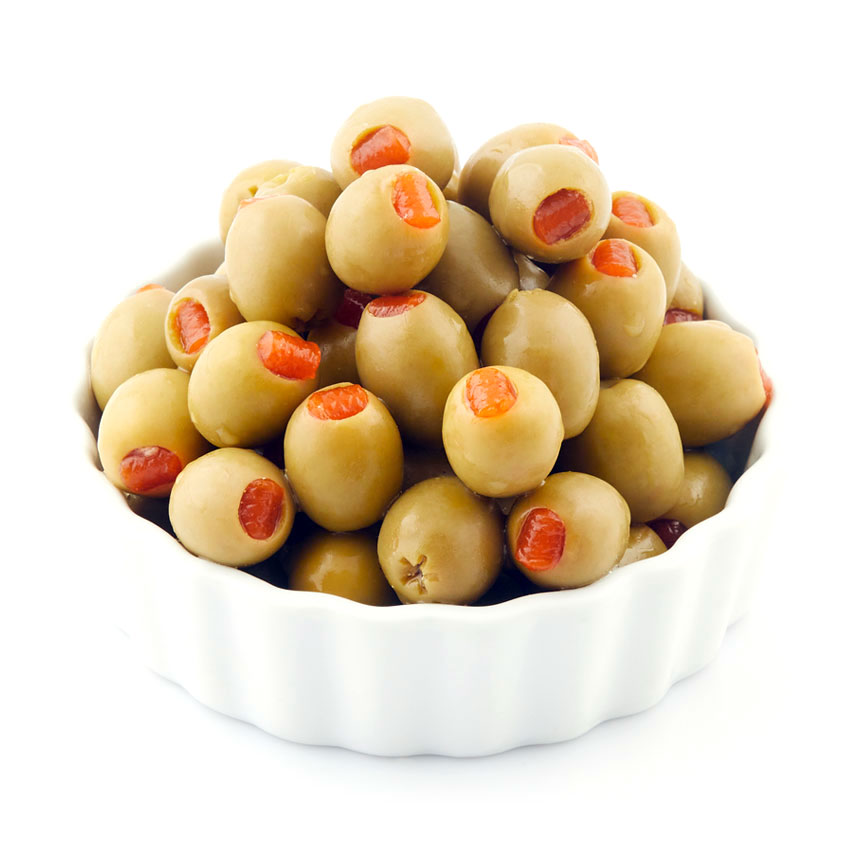 Stuffed green hojiblanca olive (with pimiento) submerged in brine, in which they undergo a totally natural lactic fermentation (Sevillian Style).
For better food safety we choose pimiento paste filling, since it is not necessary to pasteurize the final product, but we are always open to studying new suggestions of our customers (cheese, almond, lemon…)
Olive sizes available: from 140-160 to 400-420.
Bulk packing: 240kg drums (gross weight).
INGREDIENTS
– Country of origin: from Spain.Water: It must comply with the technical and sanitary regulations for the supply and quality control of water intended for human consumption (RD.140/2003).– Sodium chloride: It must comply with the technical and sanitary regulationsfor its extraction, circulation and sale of edible salt and brine (RD.1424/1983).– Pimiento paste: pimiento, sodium alginate(e-401) y guar gum(e-412), (RD 142/2002)– Acidifying substances allowed:- Citric Acid (C6H8O7)   15 g/ kg of olive.- Lactic Acid (C3H6O3)   15 g/ kg of olive.
PRODUCT CHARACTERISTICS
Olives, after their selection and processing, must be presented as follows:
– Healthy.– Clean.– Free of abnormal odor or taste.– Free of defects that could affect its edibility or proper preservation.– Without symptoms of alteration (even in progress) or abnormal fermentation.– Its color may vary between green and pale yellow, without stains other than those of its natural pigmentation.
NUTRITIONAL FACTS
Nutritional facts in 100 g of edible product (Analyzed according to Regulation 1169/2011)
– Energy value: 140,8 Kcal / 578,4 Kj- Fats: 13,0 g- Of which Saturated: 2,1 g- Carbohydrates: <0,5 g- Of which sugars: <0,5 g· Dietary fiber: 4,2 g· Proteins: 1 g· Salt Content (Reg. (EU)1169/2011): 6 g